🏡Love looking at designer spaces for inspo? Us, too. Let's obsess over them together. 
Your kitchen is likely the most used room in the entire house (and if it's not, we're about to change that with these irresistible remodeling ideas!), so it should be designed in a way that makes life easier, comfier, and chicer. Aside from functioning appliances, a kitchen design you'll love for years to come is of utmost importance. So whether you're renovating or simply looking for some inspiration to make yours more efficient, we're sharing 95 kitchen design ideas that will help you optimize your own—and the best lessons to take from them. From country casual to sleek and modern—and literally everything in between–we've got all the kitchen remodel inspiration you could ever need. Gorgeous countertops, unique backsplashes, and statement lighting, we're coming for you. And if you're looking for kitchen layout advice, keep scrolling to the end for a breakdown of the best kitchen layouts and shapes.
1. CHOOSE AN UNFUSSY BACKSPLASH
The kitchen in Liz Lange's New York City home isn't large, but she wanted it to feel as bright and airy as possible despite a smaller footprint. "Rather than going pre-war in its aesthetic, we gutted it and went very clean and modern," she says. She coated all hardware-free cabinetry in white lacquer and used white plaster paint on the backsplash, which looks unfussy and isn't too precious.
2. PERSONALIZE IKEA CABINETS
Designer Cameron Schwabenton gave this kitchen a surge of energy with fun vintage pieces (those chairs!) and brass accents. The glossy dark blue cabinets are actually from IKEA—Schwabenton gave them a unique twist with brass hardware (See here for more IKEA kitchen makeover examples and ideas).
3. SNEAK IN STORAGE
Lauren Lothrop Caron of Studio Laloc added warm brass accents and Roman shades in darby rose fabric by Jasper to make the space more inviting. She also snuck in as much storage as possible with a thin floating shelf for spices and then a wide one above it for bigger tools.
4. DRAW THE EYE UP
Designer Mallory Kaye modernized this ranch house kitchen while also letting the original architecture shine. She paired sophisticated finishes with functional fabrics and a smart layout to withstand the wear and tear of young children and work hard for family living. The custom adobe-style plaster hood draws the eye up, as does a skylight stretching along the room's width and bathing it in natural light.
5. MIX LIVELY AND MOODY COLORS
New York City-based designer Garrow Kedigian chose Soft Chinchilla by Benjamin Moore to give the kitchen cabinets a light, cheerful energy. "I always like my kitchens to feel like rooms and not utilitarian spaces, so I always encourage my clients to paint their kitchens with a lively color," Kedigian says. The backsplash and counters are the same material, black granite from SMC Stone, for a seamless effect.
6. MAKE IT PERSONAL
In this kitchen designed by Cate Dunning, glossy tiles in a herringbone pattern contrast with the matte greige painted cabinets and the dark stone counters. Marrying both, the floor tiles are a custom mosaic pattern reminiscent of an old-school Parisian bistro. There are also plenty of personal accents incorporated, which is fitting considering that this was the designer's grandmother's home!
7. EMBRACE THE PLACE
The kitchen in this 16th-century thatched cottage designed by Elizabeth Hay features Little Greene's White Lead paint on the walls, beams, and ceilings, and a rich Edward Bulmer Invisible Green on the cabinets. A floral arrangement by Rambling Rose enhances the English cottage aesthetic."Being a quintessential Devon cottage, it was already full of charm but quite neutral in terms of color."
8.UTILIZE EVERY INCH OF SPACE
The great big-picture windows required Kate Arends to sacrifice wall space, which ended up being so worth it because of all the natural light and forest views they allow. To make up for the lack of wall space, Arends optimized the lower cabinets by making them extra deep and then hung pots and pans from the dropdown ceiling. A lazy Susan corrals cooking condiments.
9. EXTEND A TABLE OFF THE ISLAND
In a Brooklyn townhouse by interior designer Eneia White, the kitchen is one of the primary gathering spaces so she wanted it to be as comfortable as it is stylish. The cabinets are painted soothing light blue color and the island extension serves as an extra dining area.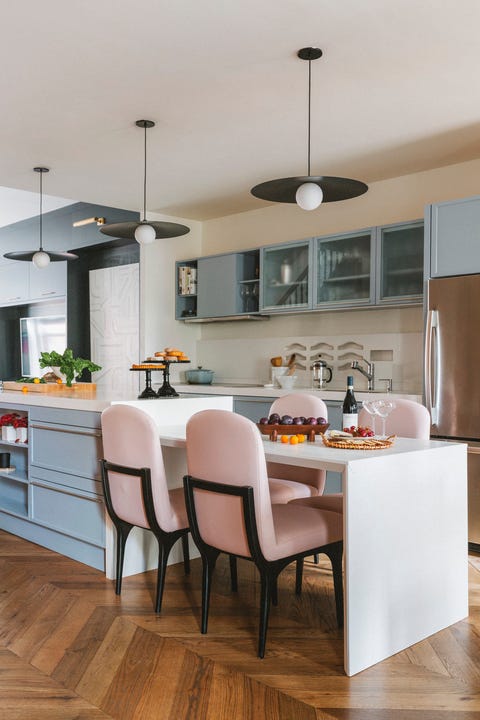 10. HANG FRUIT FROM THE CEILING
To play up the home's period features, Francesca Grace gave the interiors a cosmetic refresh with wallpaper, vintage items, light fixtures, and accessories. We love how fun the fruit basket accessory is, and it keeps the countertops clear.
#House Beautiful